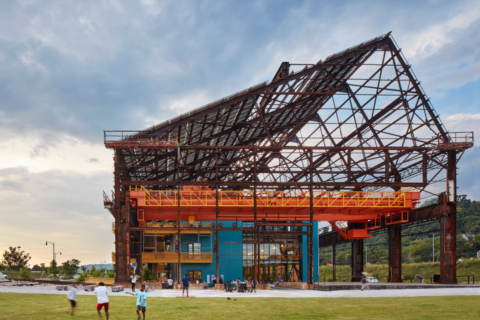 The historic superstructure Mill 19 reinhabits is the last remnant of the former Jones & Laughlin Steel Company, which once perched on the banks of the Monongahela River four miles east of downtown Pittsburgh. The Thirteen Colonies acquired the area in 1768 from the Iroquois in the Treaty of Stanwix, the first railroad came through in 1861, and the first steel plant was built in 1883. For over a century, the J&L Company steel mill supplied materials to an expanding nation, extending America's claim across indigenous lands and its influence globally. RIDC, Mill 19's developer, preserved the steel rolling mill's quarter-mile-long shell for adaptive reuse while undertaking 13 years of environmental remediation. In 2019, Hazelwood Green opened to the public for the first time in nearly a century with the dedication of its first public streets and Mill 19's first development phase, which houses CMU's Advanced Robotics for Manufacturing Institute. Completed in 2020, Mill 19's second development phase connects to an adjacent public park. Mill 19's third phase of development is slated for completion in 2023.
Mill 19 took a unique approach to adaptive reuse by peeling away the existing mill's deteriorated sheet metal skin to expose its dramatic steel skeleton and installing a sequence of buildings to house speculative high-tech office, lab, and manufacturing spaces within the ruinous structural frame. Old and new are clearly differentiated as the project leverages the interplay between industrial and human scales. Serving as the experiential heart of Mill 19, a full-height corridor of open public space runs the length of the project between the new buildings and the existing frame. Walkways, balconies, and stairways invite the public to explore the curated void. Daylight filters through the bifacial glass PV panels above to illuminate a landscape with concrete blocks and steel elements salvaged from the original structure. Rain gardens, native plants, and elevated pathways delineate spaces for various experiences, from individual contemplation to large-scale community gatherings.
Mill 19's interiors are all business: the internal building layouts promote flexibility, clear space, and daylight to meet the needs of the high-tech tenants. Building A integrates a double-height lab space with a new girder crane for CMU's Advanced Robotics for Manufacturing Institute. Building B uses a ground-floor façade of overhead garage doors to support the driverless car innovator Motional AD. Building C is designed to be subdivided into multiple tenant areas on each floor to incubate smaller start-ups within the high-tech sector.