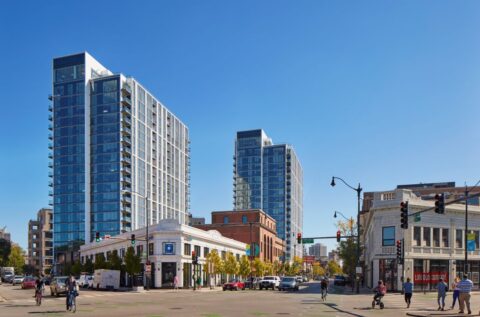 Due to the sensitive history of the site and its central location, McCaffery had to overcome broad community skepticism about its master plan. The development team participated in more than 70 community meetings throughout the entitlement, design, and financing phases to gain a broad consensus. The design process was collaborative and prioritized community engagement throughout. Modifications were made along the way to accommodate an array of concerns and requests such as reducing traffic, preserving historic structures, including affordable housing, and adding public art. In early 2015, McCaffery inked a joint-venture partnership with Hines to further enhance an already strong team, increase development and technical expertise, strengthen the financial underpinnings, and co-develop the site. The project broke ground in April 2017.
Given the size and scope of the project, SOM was retained to design the apartment towers while Antunovich Associates designed the commercial, senior living, and condominium buildings, ensuring attention to detail was given to the aesthetic and density the neighborhood deserved. Lincoln Common was designed to knit into the fabric of the Lincoln Park neighborhood. Anchoring the development are two multi-family towers, providing a variety of beautifully designed living and amenity spaces. The towers are set back from the street to reduce presence in the low-rise community. Retail storefront elevations and materials are varied to reflect the existing streetscape. To maintain a connection with the history of the site as well as contextual relevancy within the community, historic buildings and façades were renovated for adaptive reuse.
Lincoln Common has three principal open spaces, each with its own identity. The central plaza accommodates vehicles and pedestrians and serves as a year-round venue for community events. The Fullerton Garden memorializes and incorporates several historic relics of the former children's hospital. A playground provides a space for the community and an amenity for those who call Lincoln Common home. Adjacent to the Fullerton Garden sits The Orchard, a seven-story condominium building. Featuring gas lamps, ironwork railings, and especially detailed window frames, its design is a modern take on Chicago's historic Greystone homes in the neighborhood. Planting design emphasizes native flora, biodiversity, and seasonal interest, and features a diversity of mature trees which help integrate the development into the landscape of the surrounding neighborhood.